Summary:Having tumbled 9% month to date, the Nasdaq 100 is on track to deliver its softest December performance since the onset of the dotcom bubble.

MACRO MARKETS
1. US PCE Eases Further in November
The Federal Reserve's preferred gauge of inflation continued embarking on a downtrend towards the end of the year. Notably, November's figures released by the Commerce Department showed Personal Consumption Expenditure (PCE) climbing 0.1% MoM (refer to white line). On an annual basis, the index notched its smallest gain since October 2021 to rise 5.5% from a year ago.

Price pressures have undeniably retreated from the steep levels witnessed earlier this year and are raising hopes that the worst is now over. Likewise, in a survey conducted by University of Michigan, results revealed that consumers' year-ahead inflation expectations retreated to 4.4% - an 18-month low.
Amidst the good news, there remains to be areas of concern. Wage gains, particularly in the service sector remains to be stubbornly high, climbing 0.5% for the second consecutive month. Workers perceive this increase in a positive light, but the same cannot be said for Federal Reserve officials who ideally would like to witness some cooling in the services side of things.
2. Tech Stocks See Worst December in 20 Years
Having tumbled 9% month to date, the Nasdaq 100 is on track to deliver its softest December performance since the onset of the dotcom bubble. More recently, however, December's loss marks a sharp reversal from November's 20% rebound.
This week's downward spiral further stemmed from:
US jobless claims hovering near historically low levels

Federal Reserve hiking interest rates for the seventh consecutive time

Tesla tumbling 30% month-to-date due to concerns arising from its EV demand and CEO Elon Musk's episode with Twitter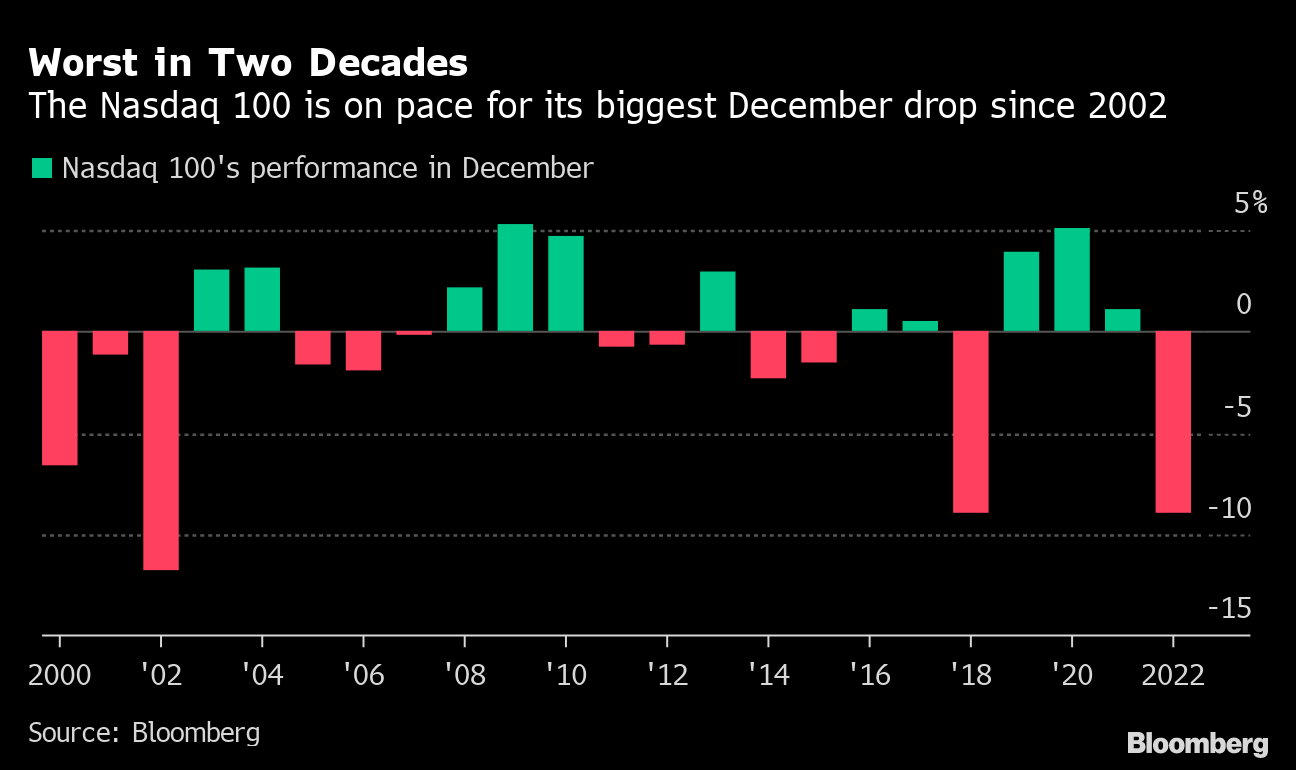 The tech sector has been obliterated this year amid rising inflation, for tech stocks' valuations are highly susceptible to interest rate movements. While the index has yet to reset new lows it recorded in 2012, bearish interest showed few signs of abating. This is evident through IHS Markit's records where heightened short interest in Invesco QQQ Trust Series 1 ETF have risen to 6.2% of shares outstanding – a level last witnessed in 2012.
STOCK MOVEMENT
Stocks making the biggest moves:
1. BlackBerry retreated 9.6% having recorded a quarterly loss alongside its underperforming cyber business 
2. Nutanix plunged 8% on speculations that Hewlett Packard Enterprise had ceased takeover talks to acquire the company  
3. Tesla plummeted 8% on Evercore ISI's downward price target revision citing its inability to hold a key level 
4. Six Flags jumped almost 12% on reports that activist shareholder Land & Buildings Investment bought a 3% stake in the company 
5. Nike soared 12% after quarterly earnings topped expectations while lifting guidance on improved inventory performance
ECONOMIC CALENDAR
Date

Event

Previous

Forecast

27 Dec

CN Industrial Profits (YTD) YoY NOV

-3%

-5%

US House Price Index YoY

11%

9.1%

28 Dec

US Pending Home Sales YoY NOV

-37%

-32%

US Pending Home Sales MoM NOV

-4.6%

-0.9%

29 Dec

SG PPI YoY NOV

8.5%

7%

30 Dec

CN Current Account Final

$77.5B

$144B

Disclaimer
This article is intended for general circulation and educational purpose only and does not take into account of the specific investment objectives, financial situation or particular needs of any particular person. You should seek advice from a financial adviser regarding the suitability of the investment products mentioned. In the event you choose not to seek advice from a financial adviser, you should consider whether the investment product in question is suitable for you.
Past performance figures as well as any projection or forecast used in this article, are not necessarily indicative of future performance of any investment products. Your investment is subject to investment risk, including loss of income and capital invested. The value of the investment products and the income from them may fall or rise. No warranty whatsoever is given and no liability whatsoever is accepted for any loss arising whether directly or indirectly as a result of this article. Overseas investments carry additional financial, regulatory and legal risks, you should do the necessary checks and research on the investment beforehand.
The information contained in this article has been obtained from public sources which the uSMART Securities (Singapore) Pte Ltd ("uSMART") has no reason to believe are unreliable and any research, analysis, forecast, projections, expectations and opinion (collectively "Analysis") contained in this article are based on such information and are expressions of belief only. uSMART has not verified this information and no representation or warranty, express or implied, is made that such information or Analysis is accurate, complete or verified or should be relied upon as such. Any such information or Analysis contained in this presentation is subject to change, and uSMART, its directors, officers or employees shall not have any responsibility for omission from this article and to maintain the information or Analysis made available or to supply any corrections, updates or releases in connection therewith. uSMART, its directors, officers or employees be liable for any or damages which you may suffer or incur as a result of relying upon anything stated or omitted from this article.
Views, opinions, and/or any strategies described in this article may not be suitable for all investors. Assessments, projections, estimates, opinions, views and strategies are subject to change without notice. This article may contain optimistic statements regarding future events or performance of the market and investment products. You should make your own independent assessment of the relevance, accuracy, and adequacy of the information contained in this article. Any reference to or discussion of investment products in this article is purely for illustrative purposes only, is not intended to constitute legal, tax, or investment advice of any investment products, and must not be construed as a recommendation, an offer or solicitation for the subscription, purchase or sale of the investment products mentioned. This article does not create any legally binding obligations on uSMART. uSMART, its directors, connected persons, officers or employees may from time to time have an interest in the investment products mentioned in this article.