"Smart Money" in a Bear Market?
Abstract: In the past year, the tech-heavy Nasdaq 100 Index rose only 2.5%, while the uSMART Featured Investment Portfolio (which is: Featured Strategies Function) rose 85% during the same period.
Active fund managers have the possibility to invest smart by forecasting the market and change their exposure to the market in regard of macroeconomic events.
For example, fund manager Mark Spitznagel, who earned a fortune when stocks cratered in 2008 and 2020. Mark Spitznagel's firm, Universa Investments, earned a 4,000% return in a matter of weeks the last time there was a contraction in the U.S. economy.
However, these legends are far from us, and the uSMART investment and research team is by our side.
+41.92%      +74.36%
This is the Annualized Yield and Portfolio Return(since 2021.03.17)of US ETF Mid-Frequency Quantitative Strategy selected by uSMART.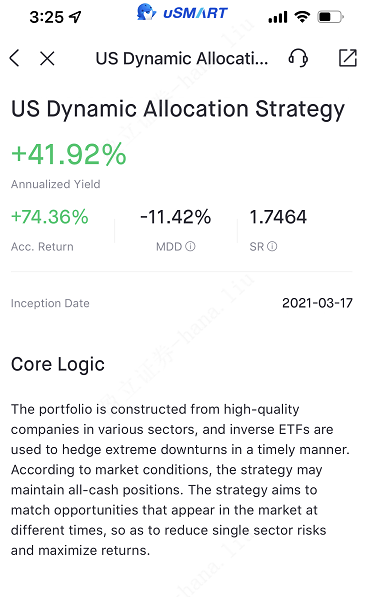 What is Featured Strategies
Fetured Strategy is a feature developed by uSMART. Covering featured investment strategies through quantitative investments portfolio models & top licensed financial analysts' opinions for US stocks, Hong Kong stocks and SG stocks. Help users pursue excess earnings and grasp short-term profit trend.


Who is the master of the strategy?
uSMART investment research team.
Which means, users who have followed the strategy from the date of establishment of the strategy will have a cumulative rate of return of up to 74.36%(since 2021.03.17) within the past two years, far outperforming the 2.5% of the Nasdaq 100 Index.
How does the uSMART investment research team achieve it?
First, the investment research team will use inverse ETFs to hedge extreme downturns to reduce the risk of a single sector while maximizing returns.
Taking this week as an example, the investment and research team predicted that the US stock market would rebound briefly and clear short positions, and re-opened short positions when the rebound potential of US stocks weakened on Wednesday. The perfect operation made the strategy return as high as 85.8% in the past year. In the case of extreme malaise, the net value of the portfolio reached a new high.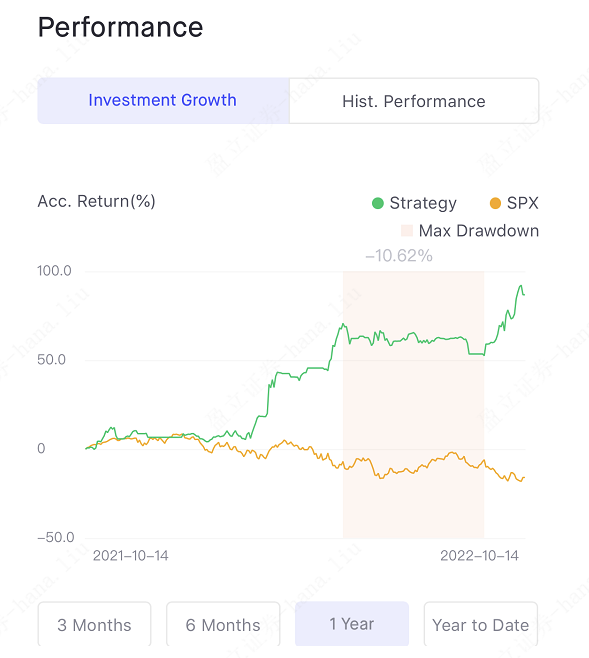 Secondly, the investment research team is good at using leveraged trading varieties to achieve the effect of "short-term high yield".
Historical records show that the strategies frequently operated include: YANG (triple short FTSE China ETF), SRTY (triple short Russell 2000 ETF), SPXU (triple short S&P 500 ETF).
In addition, the core personnels of uSMART investment and research team graduated from first-class universities, worked in major financial institutions, and have more than ten years of investment management experience. They have experienced bull and bear markets and have rich management experience. At present, the company's investment research team has more than 20 people, with solid and systematic investment research methods and strong scale asset investment management capabilities.


Want to know more about the function?
Earn 41.92% every year during the market crash?