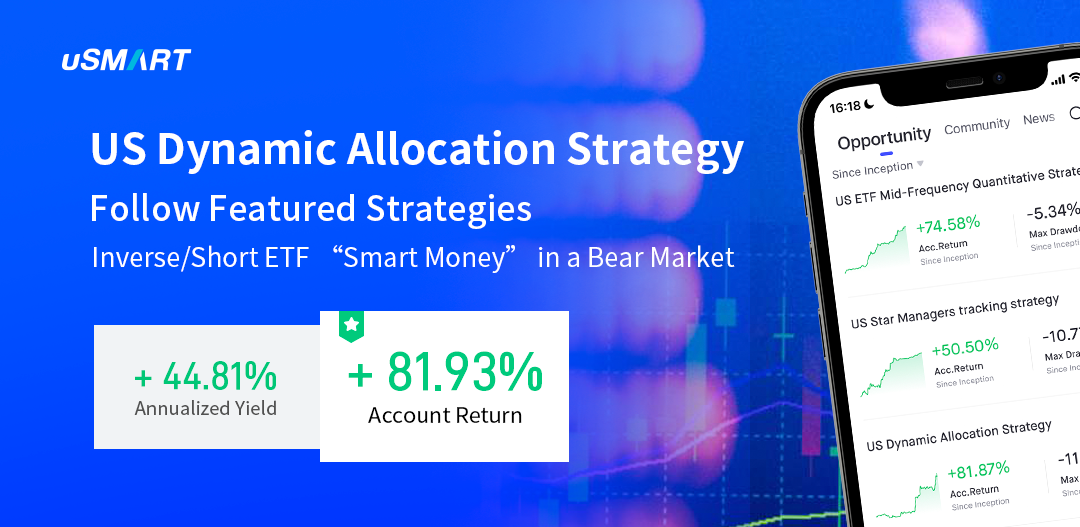 US Dynamic Allocation Strategy continued to grow and the Featured Investment Portfolio hit a new high. The position Direxion Daily FTSE China Bear 3X Shares(NYSEARCA: YANG) rose nearly 30% overnight.

Market volatility continues to increase, and the strategy is still based on short positions. Last Friday, Jaco predicted that YANG.US will have more room for growth than SRTY.US, and increase positions accurately to increase profits.
Jaco, Director of uSMART investment research team is in charge of US Dynamic Allocation Strategy. The strategy is selected from high-quality companies in the sector, and he uses inverse ETFs to hedge extreme downturns, seize market opportunities with big bags, reduce risks in a single sector and maximize returns.
【Core Logic of US Dynamic Allocation Strategy】
The portfolio is constructed from high-quality companies in various sectors, and inverse ETFs are used to hedge extreme downturns in a timely manner. According to market conditions, the strategy may maintain all-cash positions. The strategy aims to match opportunities that appear in the market at different times, so as to reduce single sector risks and maximize returns.
 【Introducing Featured Strategy】
Featured Strategy is a feature developed by uSMART. Covering featured investment strategies through quantitative investments portfolio models & top licensed financial analysts' opinions for US stocks, Hong Kong stocks and SG stocks. Help users pursue excess earnings and grasp short-term profit trend.
Want to know more about the function?
Earn 44.81% every year during the market crash?